So you want to know
more about me? Ok here you go!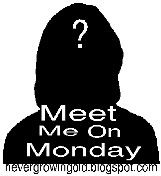 1. Are you a collector of anything?
Books! I have a library full of books! From vintage children's books, to novels, and cookbooks! I love books!
2. Do you have any tattoos or piercings?
I have my ears pierced and I used to have a navel piercing but I have let that one close.
3. What is your favorite salad dressing?
Honey dijon! My own recipe.
4. What was the last thing that you ate?
Naan, with cheese melted on top! Mmmmmm
5. What was the last movie that you saw?
Haichi - Richard Gere film.