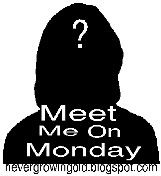 Questions:
1. Do you wear socks to bed?
Never! I hate socks!
2. Do you have any pets?
1 kitty.
3. What topping(s) do you like on your pizza?
red onion, spinach, chicken, feta cheese.
4. What time do you go to bed?
To late...usually around 12.
5. Would you rather get free chocolate for one year or free potatoes forever?
Chocolate! And I will try my best to last forever :) I love dark chocolate!